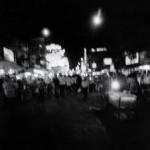 I like a lot of things about Kozeleks work, but one very convenient thing is that when you read the track listing on the back of one of his records, and see an "alternate" version or live version, it's basically a completely different song from the original. And if you liked the original, you're pretty much guaranteed to like the other version. Kozelek has perfected his sound, and I'm not just throwing that tired old chestnut out there offhandedly; he's got a sound these days, whether it's Sun Kil Moon or his solo stuff, that I think I might be happy listening to that sound even if he was reading the Sunday grocery circular. As long as he's playing that guitar and singing all mopey like he does. And ok, that one is a tried old chestnut when it comes to a review of anything Kozelek; his singing isn't really mopey these days.
I don't think there's anything you can't find a studio version of on this record, but I care so little I haven't bothered to check. It's an excellent record, one of the few that makes me wish I was listening to a cd so I wouldn't have to wait while I flip over the record.
There are 200 copies, one white vinyl, one in black, 100 of each but of course the white seems to be scarcer. The black version is still out there at initial retail price too.