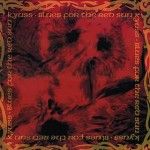 Kyuss 'And The Circus Leaves Town' LP
Kyuss 'Blues for the Red Sun' LP
Kyuss 'Welcome to Sky Valley' LP
Reissues of Kyuss and Queens of the Stone Age records are certainly out there, plaguing collectors who have to become familiar with matrix numbers and Stoughton versus folded jackets to get to the real thing. And it doesn't help that these are German, like the majority of the boots. But these are not boots or poor quality knock-offs. These are 180 grams with impeccable sound and clear artwork probably from original films. This is really the way this band is meant to be heard. My only complaint would be that all three records are single lps, that's too much time to put on one side of a record. But I must confess the sound doesn't seemed to have suffered for this at all; it's very clear and very loud. All three are available from one of the best vinyl stores out there too; www.auralexploits.com.