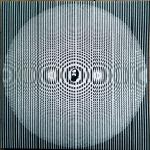 GONJASUFI
A Sufi and a Killer 2xLP
Warp Records (UK) 2010
I have a feeling that nobody else is doing anything quite like this. Gaslamp Killer is the 'Killer' in the title, but comparisons break down when the album is given repeated, complete listens. Heaps of thick, dark atmosphere along with a liberal scavenging of otherwise banal easy-listening melodies and classic tracks wreath this thing in dense, heady smoke. The buds are fat and piled high. I swear I heard a frankenstein of a guitar lick from 'Pictures of Matchstick Men' in there somewhere. Threading through it all, the Sufis vocals reside somewhere between atonal prayers and drowning gasps of desperation, not rapping, not singing. I made the remark that it reminded me of TV on the Radio, but only if that project was a single guy with a sampler and an amazing knowledge of studio equipment. Lovely matte-finish gate-fold jacket, but they lose points for not printing the tracks somewhere, anywhere on this thing.